Last updated on | 5116 Views
Have you recently noticed your boyfriend's behaving uncommon? Has he become obsessed with Instagram suddenly? Do you think your boyfriend is hiding something from you? Do you suspect that your boyfriend is texting another woman, or maybe even his ex-girlfriend on Instagram?
Instagram is an immensely popular site, 'as 63% of Americans use Instagram daily and is the 6th most popular social media site in the world.'
Instagram as a site will connect you to people around the world without any restrictions unless the profile has been kept private. Do you want to know how to read Instagram messages to catch him in the act and end the anxious thoughts?
If you said a yes to any of these questions, then chances are your partner has lost himself to someone else. Don't let these kinds of thoughts stop you from getting a good night's sleep. Here is how you can get access to your boyfriend's phone and read Instagram messages.
Read your boyfriend's deleted Instagram messages
Technology, especially mobile phones, have created a new dimension of dishonesty among partners. That's why an increasing number of cases of infidelity and betrayal have been witnessed. Many cheating partners think that once a message gets deleted from a phone, it is gone forever. However, this is partly true because there is a foolproof method that can help you to not only read the deleted Instagram messages of the target phone but also let you save them for future evidence. With the help of an Instagram Spy Software, you can read all your boyfriend's Instagram messages even if he deletes them.
Reveal the truth with Instagram spy software
If you think your boyfriend is hiding something from you, then you're probably right. But of course, you don't want to act like a crazy, controlling girlfriend to find out that you're wrong. So, don't accuse your partner based on your suspicions. Get help from the world's most reliable cell phone monitoring software to find out exactly who he's texting, and with whom he is having a conversation all day and night. The good thing about spy software is that you can also recover and read the messages deleted by your partner.
Here's how it works.
Spymaster Pro is a name renowned in the spying industry. It is specially designed to record precise information from the target phone without any exception. It works in a hidden manner so that the user under the surveillance will not be able to know that he is under observation.
The software is fully compatible with both Android and iPhone. All it requires is just a simple installation process in the target Android phone. However, there is no need to install any software in case your boyfriend operates an iPhone. On your personal spymaster Pro account, you will get the deleted Instagram messages of your boyfriend's mobile remotely from anywhere at any time.
Watch How To Install Spymaster Pro
Wait – This is not it!
Here is something extra for you. Yes, Spymaster Pro is the best way that you can use to read your boyfriend's deleted Instagram messages. Along with Instagram tracking feature, it gives you the following complimentary features so that you can increase your areas of spying. Here are some fantastic tracking features of Spymaster Pro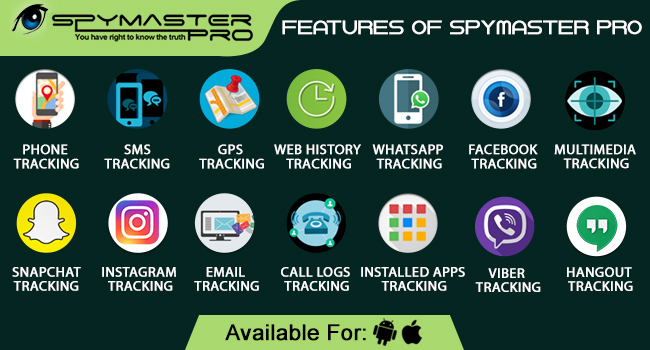 Social media conversations, call log history, web browsing history, exact location, image files stored, installed applications, all these tracking features are enough to confirm your suspicion and clear off some fog from your head.
Safe to Use
Spymaster Pro is the most trusted cell phone monitoring software in the market. It keeps your identity hidden and offers exclusive tracking features with 100% security. It can serve your spying needs at a very affordable price and at the same time, the information gathered from the target mobile will not get shared with anyone.
Also Read: Spymaster Pro Reviews