Last updated on May 3, 2019 | 6839 Views
The phone call is a great way to keep in touch with your loved ones as well as business associates. If your child or partner seems to be acting unusual and talking to someone over the phone for N hours and you are getting some premonition that they are hiding something from you then the best way is to spy on their phone calls to know with whom they are talking.
Why Do You Need To Spy On Someone's Phone Calls?
Mobile phones have completely changed the way of communication. While this modern convenience has speed up the exchange of information, it's also made it easier to cover up things. Don't get left out of important and private talks that could have an impact on you. With helpful direct listening, you'll have the freedom to spy on phone calls without anyone knowing.
If you want to spy on your kid's phone call or your spouse phone calls secretly to know with whom they are talking for long hours then spymaster pro is the best cell phone monitoring software to spy on someone's phone calls without letting them know.
Why Cell Phone Spyware is A Preferred Choice?
Usually, mobile tracking is done as you have some doubts and there are maximum chances of getting proofs and evidence against the target user. And if there are no proofs find then you can clear your mind as these days almost everyone is active with their cell phone all the time and it could just be your assumption.
Whether a target user is calling, texting, chatting etc. cell phone is the handiest choice, one can use to do so. Therefore, to catch someone cheating on you, the best choice can be to monitor on them and catch them red-handed by spying.
Get The Best Spy App To Monitor Phone Calls
There are many spy tricks, but the real ones with a good response and according to our spy needs are very less. While you are exploring into the spy market, you may see plenty of spy apps to get your eyes, but to choose one out of them which can be the most prominent and amazing app that people usually prefer to spy on someone is a difficult task.
Spymaster Pro is an App for tracking someone calls and is getting a big hit nowadays. It has achieved huge goodwill in the market because of its accurate results and safety. Moreover, it just takes 2-5 minutes to install this software on the monitored cell phone of the target user. So, sitting at your comfort you can easily track the target user's mobile activities.
You can find both paid and unpaid spy applications in the spy market and within these spy apps, many of them will just have the name and not the services. So, to lessen your burdens we have come up with the world's most reliable cell phone monitoring software that actually works and work in a proper manner and provide entire mobile phone information precisely.
It is known for stealth spying and outstanding features at incredible price.  It can help you to track on someone's phone calls without letting them know. Using this application is pretty easy.
Choose the Prominent Phone Tracker App
There are many apps with the basic tracking feature which couldn't even work properly in the free spy sphere. But in the case of paid apps, there are maximum chances to get trustworthy products and the advanced spy features.
So, you can get this phone tracker app to track someone's phone call remotely and invisibly. Spymaster Pro is the best-proven software in the market which works in a hidden mode without revealing the identity.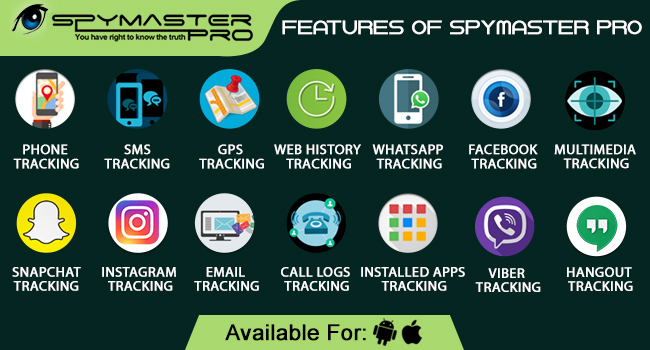 Spymaster Pro provides you with many other features along with the subscription of one software like you can also track on their calls, Snapchat, Whatsapp, Hangout, Viber, and many more. So now you can explore and research the product. You can purchase this software online at affordable prices and track on every single activity of the target user.