February 16, 2019 | 8115 Views
Want to learn how to track a cell phone location? Well, this question has been asked by a lot of people and so you are in the right place. Here you will get to know the easiest method by which you can track cell phone location secretly and remotely.
If you have been cheated by your partner or want to know where are you kids going after school hours then the only way out which can help you is secretly tracking their cell phone with Spymaster Pro. There are a number of cell phone tracking apps but it is the only app which will allow you to track location without accessing the target's phone.
Seek the help of the best cell phone tracking software
To track one's location has become a common need these days, as there are some people who cheat and lie to their loved ones. And because of that, they keep on thinking ways to track a cell phone without being caught. For this Spymaster Pro is the only software which will let you track the location remotely.
Spymaster Pro is the no 1 tracking software which is 100% safe and stealth to use. Without letting the targeted person know this software tracks their GPS location and allows you to view it from your device. It is compatible with both Android and iPhone. And will help you find the live location of a Smartphone quickly.
Easy to use!
This is an easy to use software and for this, you do not need to be tech-savvy. There is a simple procedure which helps you track cell phone location from your comfort:
For this first, you have to get the software online which is available at very nominal prices and also offers discounts every festive season. Once you make the purchase of the software you will get a link via mail which you have to install in the target's device.
When the targeted person isn't around you download and install the link in their cell phone. This process will take 4-5 minutes. And once the software is installed you get every single update of their Smartphone.
You can log in to your control panel with the help of your login credentials, which were given to you at the time of purchase. As you will log in you will be able to view their GPS location and will get the precise information from their cell phone without being caught and without letting them know.
Note: Spymaster Pro allows you to track an iPhone without doing any installation or jailbreak. To track the GPS location of an iPhone user you just need to give the login details of their iCloud (which means the apple id and password).
Additional benefits:
Other than tracking GPS location Spymaster Pro also gives you some additional benefits for free as you can track: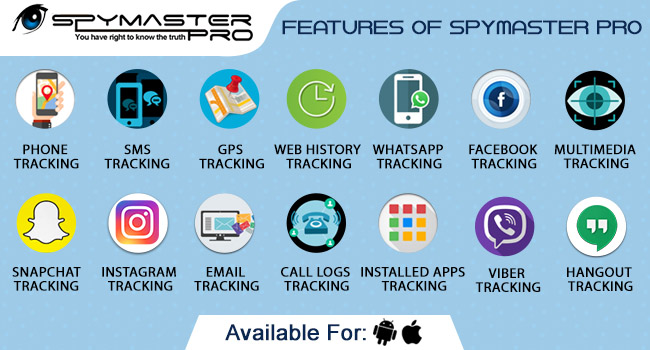 Sent and received messages
Phonebook
Browser history
Track Instagram Chats, WhatsApp chats, Facebook Chats
Multimedia files
All the sent and received emails
Full data access
Once you have subscribed this eminent software you will get the virtual access to the target's device. easily you can track cell phone location without letting them know from the comfort of your place. also, you get 24*7 customer support service from Spymaster Pro in multi languages.
There cannot be any safest and fastest way to track cell phone location secretly and remotely other than Spymaster Pro. So, go to the website now and buy the software to keep a covert eye on your nears and dears without letting them know and without being detected.