Last updated on April 19, 2019 | 5365 Views
Skype is the most liked app to chat and for video calls which is usually used for office work and many people use it for communicating with their loved one's. Few time ago there weren't any software to spy on Skype but now with the help of Spymaster Pro the best cell phone monitoring software you can easily spy on Skype messages and conversations with time and date stamps at your comfort. So the best and an effective way to save your kid's or business is to spy on them with a cell phone monitoring software.
What is Skype?
Skype is an online chatting and calling app which is mainly used for video calls and for official work. To make free phone calls on internet many people use it across the world. You can make free video calls, chat and share files on Skype with anyone. This app is found in everyone phone these days to be connected with their loved ones.
This app is used by all adults, teens and even kids to communicate with their family and friends. This is a very useful application but can be a little dangerous for teens as they can be hit by the predators online. So to keep a secret eye on your kids being a parent you can spy on their Skype messages and conversations to keep them safe from harmful activities. Beside this you can spy on your partner or company employees to safeguard your business.
How to spy on Skype messages and conversations?
With the best cell phone monitoring software Spymaster Pro you can easily spy on Skype messages and conversations secretly and remotely at your comfort place. Spymaster Pro is an eminent software which is 100% safe and stealth to use. It works in hidden mode just like a camera so the target user never gets to know that someone is spying on them. it helps you spy on Skype messages and conversations with date, time stamps and everything at your convenience. Follow the instructions to know how it works:
Buy the software
The first step is you will have to get this software online from the website and the software is an affordable software. Also, you get the discount available on the website.
Download and install the software
Now you will have to download and install the software in the target user's cell phone. This process will take only 5-8 minutes and as this software is hidden so the target user cannot be able to catch it.
Note: No installation or jailbreak is needed in case of iPhone. You just need to have the apple id log in credentials of the target user to spy on Skype tinder messages and conversations.
Log in to your dashboard
Now you have to log in to your dashboard with your login credentials given to you at the time of the purchase of software. The login credentials are sent on the email provided by you.
Also Read: 5 Ways to Spy on Snapchat Photos and Messages
Start monitoring
You can start monitoring from anywhere and anytime being at your comfort place. and check all the information they share and chats secretly.
Sometimes kids are bluffing their parents but they don't understand that keeping an eye on them is also for their safety. So keep your kids safe by getting this software and start monitoring them. Also to save your business you can get this software. The best part of Spymaster Pro is that along with Skype you can: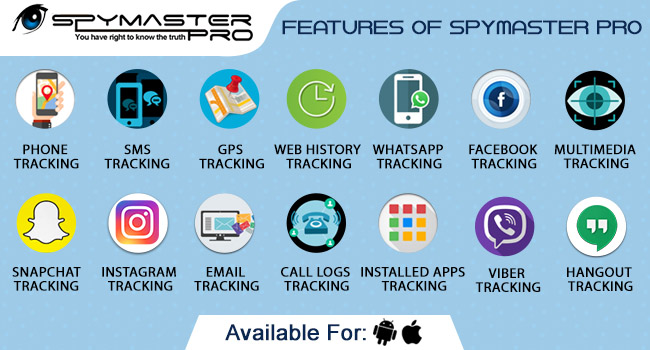 Track the GPS location of the target user
View all the incoming and outgoing calls
Check all the sent and received messages'
View all multimedia files and albums shared
You can track all IM chats like Whatsapp, facebook and many more
So, these were the few features Spymaster Pro offers you for free. To secretly spy on Skype messages and conversations you have to get this software today and start spying on your kid's or employs and get your doubts clear.