Last updated on | 5532 Views
The craze of smartphones is soaring all around the world. And it is now part of our everyday lives. Though technology is a great place for us to interact and get updated with the world, it has some pitfalls too.
Like all good things, the Smartphone comes with many benefits. We can use it to connect with one another, share our thoughts with even those who are far away from us. It wouldn't be wrong to say that this is the age of Smartphone and almost everyone including children possesses a cell phone. Parents often think it is necessary for their children to carry a cell phone so that they can contact them anytime from anywhere. Yes, it does serve the purpose, but do they really know where their children are roaming or with whom they are chatting on their cell phones? What if they lied? Hence, here we have some tips to track my child's phone without them knowing.
For parents who believe that their children only play online games are immune, think again. In reality, online games and social media are not always a safe playground for them. Everyday almost we hear stories about predators actively targeting children online. An alarming number of children are being trapped every year on these social media sites. It's unfortunate that such a great tool is so easily abused by predators.
Apart from this, the online world opens new doors to explicit sites, and cyber crimes such as cyberbullying, cyber harassment, creation and distribution of child pornography, exposure to harmful content, etc.
Remember, exercising strictness and severity will only jeopardize your relationship rather than doing any good. So what should be done in such a scenario?
Ensure Your Child's Safety with Child Cell Phone Monitoring Software
It's quite obvious that parents need to be proactive to ensure that their children and teens are safe from predators on the internet. Thankfully, with the help of Child Cell Phone Monitoring Software, children's Safety can be ensured by monitor your children's online activities without even invading their personal space. It is the best possible solution to stay connected with children and will help you know what they are doing on their mobile screen.
Track my child's phone without them knowing With Spymaster Pro
Parents know that they cannot be there all the time sitting with their children when they are online. So, deciding on buying child cell phone monitoring software is considered a logical and responsible step more parents are taking. Spymaster Pro is one such parental control software that is 100% safe to use and clandestinely lets you monitor your children. It will transfer the entire mobile activities of your child's phone to your personal account. Available for both Android and iPhone, it is No. 1 rated Child Cell Phone Monitoring Software in 2019.  
Download and Install
For Android: In case your child is using an Android device, you will be required to download and install the software on his/her cell phone. It is a very simple process and will only take 4-5 minutes. You can then put username and password into the website and see the entire detail of your child from anywhere at any time.
For iPhone: In case of an iPhone, no installation or jailbreak is required. Just get your child's iCloud credentials and submit these credentials when required during the login process.  
Get Rid Of Worries with These Features
Parents who take help of Spymaster Pro software get the following monitoring features: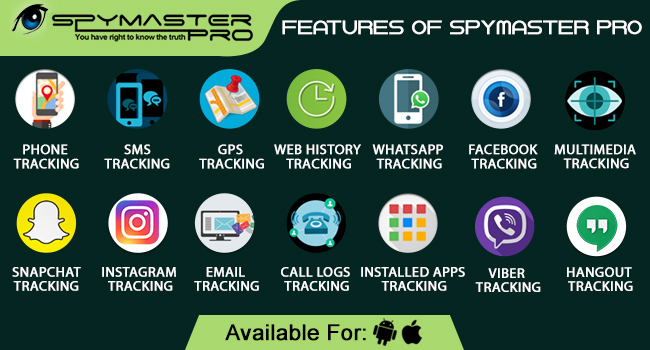 Basic Tracking: All call logs with the exact date and time stamp, text messages, internet browsing history, installed applications, and multimedia images stored on the mobile phone.
Phonebook Tracking: The eminent software lets you see every phone number that's registered on the target mobile.
GPS Tracking: With the help of the GPS Location Tracking feature, parents can see the exact location of the target mobile.
IM Chat Tracking: Further moving on to social media applications, parents can now be able to monitor their children and read Facebook chats, Instagram, Snapchat, Whatsapp, Viber, and Hangout chats even the chats get deleted on the target mobile. Spymaster Pro helps the parents to know what's going in their children's lives.
What Else?
 100% Safe to use
Spymaster Pro works clandestinely so that you can monitor your children secretly without letting them know. Apart from this, the data gathered from the target phone will not get leaked or shared with anyone. So, you play 100% safe for your children.
 24*7 Customer Support Service
 In case of any software related query, you can contact the expert team from anywhere at any time. Spymaster Pro also offers customer support service in Multilanguage.  
The monsters of cyberspace are trying to reach through online to grab your child. Don't let it happen. Get Spymaster Pro today at 50% discount.