Last updated on | 5292 Views
Does your wife talk to someone over the phone for hours? Does your son clear the call history and duration after talking on the phone? Sometimes we come across such situations that we need to check incoming and outgoing call details without telling anyone.
If you are in such a situation where you want to know "How can I see deleted call history" then you are in the right place. Getting the call history and duration of any phone without anyone knowing is not easy work, but the good news is this new technology has made it easy.
Mobile monitoring app is one such method that helps you to track the call history of any number remotely. With the help of this app, you can check someone's call history remotely on any Android or iPhone without telling anyone. If you want to listen to your husband's calls, or you want to see your children's calls log on your mobile without knowing then the Mobile monitoring app is the best fit for you.
How to see deleted calls on Android?
 Spymaster Pro is one of the best mobile monitoring app for Android. This app supports all versions of Android up to Android 13. Today we are going to tell you how you can see deleted call history of any Android phone using Spymaster pro.
To listen to deleted calls, you do not need to root your Android device. Spymaster Pro offers Android spy without root. Below is the step-by-step procedure to use Spymaster Pro for Android:-
Step 1: To use Spymaster Pro first of all you have to buy it. You can check the plans on the buy now page. Different plans 1,3,12 months are available for android you can take any plan as per your need.
Step 2: After purchasing the software, a link is sent to your email and you need to install it in the target device which you want to track.
Step 3: Once you grant permission to install the Spymaster pro on the target device, downloading will start.

Step 4: To complete the installation process, click on 'Continue'
Step 6: After "Accept", the next step is to click on "Continue"
Step 7: After that, you get a registration code on your control panel. To complete the installation, enter the registration code.
Now you can use Spymaster Pro in real-time, you will get a dashboard in which you can check the call history of the target phone. If someone deletes the call history from his phone, still his call log is saved in the dashboard.
If you have any doubts about installation or you want to know more about installation, then you can read this Spymaster Pro Android Installation Guide or you can also contact chat support available 24/7.
How to see deleted calls on iPhone?
Spymaster Pro is available for Android as well as for iPhone, you can use it on iPhone without jailbreak. To use Spymaster pro on iPhone, you need the target phone's iCloud details. This software works on all versions of the iPhone. You can check the call details of any iPhone with the help of Spymaster pro.
Step 1: First, you have to visit the buy now page of Spymaster pro and purchase any plan iPhone.
Step 2: After that follow the iPhone installation guidelines, and install the software on the target iPhone.
Step 3: After completion of installation, log in to your Spymaster pro dashboard (login details shared with email id given by you).
Step 4: Now you are able to check call history of a iPhone in the Spymaster pro dashboard.
What is Spymaster Pro?
Spymaster Pro is a mobile monitoring software that is used to track the activity of any Android or iPhone. This software is used to monitor GPS, calls, WhatsApp, Facebook, Tinder Instagram, etc. The biggest reason this software is popular in the USA is its 24/7 customer support and 14 days money-back guarantee.
Why should parents use Spymaster Pro?
As per a recent study by Social Catfish People under age 20 lost $101.4 million to online scams in 2021 (Source Social Catfish).
Targeting children has always been easy and as a parent, it is your responsibility to protect your children from online scams. Spymaster Pro is specially designed to protect children. With the help of this software, you can monitor your children in real-time. You can see where they went in the whole day, where they spent the most time.
Can Spymaster Pro record calls?
Yes, Spymaster Pro offers call recording options as well. You can't be available to listen to someone's calls all the time, so Spymaster Pro gives you the facility of call recording you just have to enable call recording in your dashboard and you can record calls on any mobile.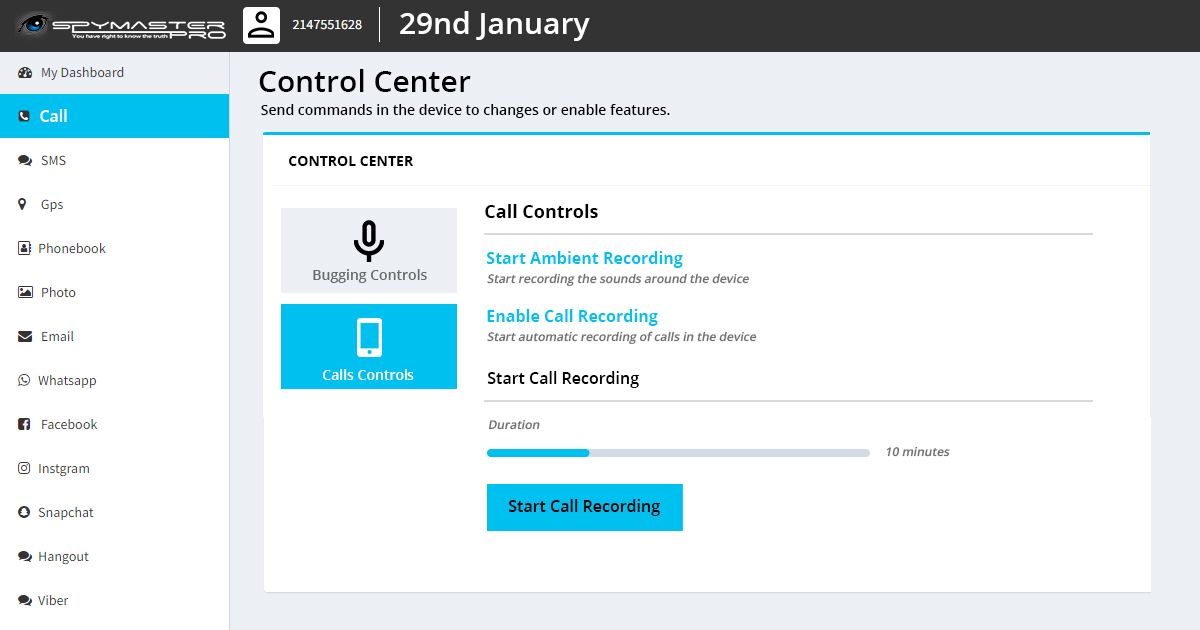 There's no better monitoring solution than Spymaster Pro
Buy Now. Install. Start Monitoring.
Can Spymaster Pro be traced?
No, Spymaster Pro cannot be tracked. It works in hidden mode and after download, it does not even show the icon of any app making it almost impossible to trace.
Is Spymaster Pro available in the USA?
Yes, Spymaster Pro is available in the USA. Spymaster Pro offers its services in more than 100 countries.
Is it safe to use Spymaster Pro?
Spymaster Pro is a 100% safe and secure product. It's a 12-year-old software with 1 million happy customers worldwide.
Can I monitor any Android phone on my iPhone?
Yes, you can monitor any Android phone an iPhone. You just need to install the Spymaster Pro in target Android and you can log in to your Spymaster Pro account and can see Android phone activities.
Final Thoughts
After reading this I hope your answer to "How can I see deleted call history?" is now clear. For more information about Spymaster Pro, you can read its reviews.