Last updated on | 5580 Views
Do you see your partner quite often to be glued to their mobile? Do they check their Whatsapp chats first before wishing you good morning or any other morning activity? If yes, then you might want to Spy on Whatsapp chat of your partner and get to the truth. You might feel wrong to think about spying on your partner but it is your right to find the truth if your partner is keeping secrets from you.
Why do you need Spy Software?
In any relationship, loyalty and being honest towards each other is very important but if your partner starts hiding things from you, you notice and suspect something is wrong. Those doubts start hitting you and make you restless. It is time to take action then and use a WhatsApp tracker app if you intend to unveil the secrets behind these hidden conversations.
In the modern age, you can never be sure of your partner's location or what kind of activities they do on Social Media on a regular basis. You can spy on WhatsApp chat of your partner and other such applications to find out who they are chatting with.
How to monitor WhatsApp remotely?
Spymaster Pro has one of the easiest processes to use the software. It is compatible with the latest versions of Android from 4.4 onwards and version 9 onwards of iPhone. If you are looking for a reliable WhatsApp tracker app for WhatsApp Hack then you have found your solution.
In the case of an Android device, you need personal access to the phone. The download process takes around 5 minutes after which you can remotely access all the information from the comfort of your dashboard. You can log in to your dashboard with the login credentials you will get in your email at the time of your purchase.
If it's an iPhone you want to spy on you can do it remotely without any physical access. With just the iCloud credentials with you, the spying can begin in a few moments. The information will be provided to you directly on your dashboard within moments of your purchase. All the past and current data from your partner's cell phone will be available for your viewing.
Also Read: How can I Track My Wife's Mobile Phone Without Her Knowing
To install Spymaster on the Android phone, go through the following installation guide.
Step 1
In the mobile phone menu, go to the options "Settings". Then in the menu, go to the "safe" option, and click "Unknown sources". Do not forget to enable the "Unknown sources" as shown below, otherwise, the software will not be installed correctly.
Step 2
Open the web browser and download the application.
Step 3
The application will start downloading. You can check the download progress by pulling on the notification bar of the target device.
Step 4
After the download is complete. Click sm.apk pulling down the notification center of the target device.
Step 5
After that, you will see demand for permission Process System, click Next.
Step 6
You will see another application for authorization process system, click Next
Step 7
After that, click Install to start the installation process.
Step 8
Wait until the master spy Pro must be installed.
Step 9
Tap the open after the application is installed
Step 10
Press Continue to complete the installation.
Step 11
Tap Accept to accept the terms and conditions of use of the software.
Step 12
Now it will show you two options. Either you want to display the icon or hide the icon. If you want to hide Spymaster Pro icon click on the icon is useless. I do not need.
Step 13
Click Turn to the on Systemprocess to turn it On.
Once this done, click Back option from your phone and it will take you to the registration code screen.
Step 14
After that, enter the registration code which will be available in your control panel.
Registration Code :
Once installation is done, you can leave the target phone and Login to your spymaster account from any device. Now there is no need to touch the target phone. See everything remotely.
Click here to login Login Here
For iPhone Installation Process Click Here.
Feature-rich Software
Apart from the facility to spy on WhatsApp and other chat application there are a number of other features that come with the software of Spymaster Pro like the ones listed below.
GPS Tracking:
GPS Tracking becomes one of the most important features for any customer who wants to spy on their partner or any near or dear one. People become callous because of the mobile that you can carry anywhere and often lie about their location but with this feature, you can see beyond their lies. It will give you their location details and the duration of their stay at all the locations which will give you a pattern on their daily routine.
Web History Tracking:
You can live track all their browsing activities online and know if they have been surfing through any problematic websites. If they have been using a few sites to cheat you, you can keep a close eye on all their online activity and know such facts.
Call Logs Tracking:
Their entire phone-book and a detailed report on all of their calls will be available for you to go through.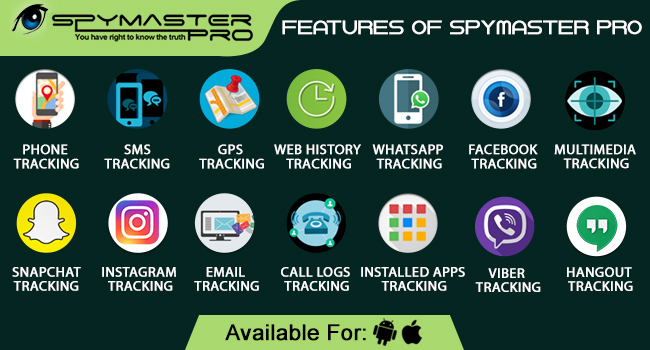 As you can see, Spymaster Pro is a very effective tool to spy on WhatsApp chat, Facebook Tracking and other such monitoring features you get with the software.