Spy on Android 10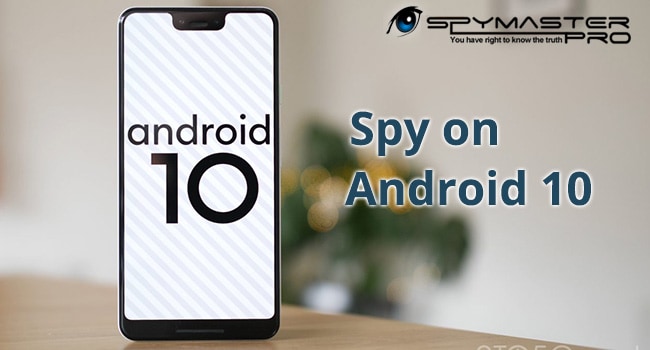 Wondering how to spy on Android 10? Congratulations for landing on the right page!
Spymaster Pro is a well-known cell phone monitoring software that has been now updated to spy on Android 10, too, with complete ease. With the new Android update slowly rolling out to mobiles around the world, this Spymaster update is useful for Android users.
Various critical features in the software like listening to calls, the live screen-shots, social media monitoring are now compatible with the latest Android 10.
Android 10 Features Highlights
Android 10 is the latest update to the most significant mobile operating system in the world. We have written down the critical Android 10 features with a brief description below for you:-
 1. Live Caption
Your phone can now automatically caption the media that is playing on your cell phone. You need a single tap, and Live Caption will automatically caption all the videos, podcasts, and audio messages. The exciting feature to note here is that it will do this without any internet data.
2. Smart Reply
Android 10 adds to the previous version, where it suggested responses to your messages. For example, if someone asks you to meet at a place, the mobile now not only suggests the right response but now it will also quickly show directions to the address mentioned.
3. Sound Amplifier
This feature will now boost the sound, filter the background noise, and fine-tune the music to make you hear the best. No matter what you are listening to, you can now put on your headphones and listen to everything even more clearly.
4. Gesture Navigation
One of the critical Android 10 features is Gesture Navigation. The gestures work even more smoothly now. Whether you want to go backward or swipe to view the open apps, it is all more efficient now.
5. Dark Theme
The strain on the eyes is taken care of with the new Dark Theme. The latest Dark theme from Android has used pure black to boost your mobile's battery live. The look of all the apps changes too.
6. Focus Mode
To focus on your priorities and blocking out any useless distraction in your mobile is this new feature. Currently, it is in beta mode, and it will let you select apps to pause that distract you. All it takes is a little tap.
7. Privacy Controls
There are newer and much smarter controls with the latest Android OS update. You will have better control over how and when your data is shared.
8. Family Link
This feature will allow you to set screen time limits and view app activity. Also, you can manage apps and content restrictions and see where they are. In short, you can guide your kids on how to learn and explore the mobile world.
Spy on Android 10 With Spymaster Pro
You will be glad to know that Spymaster Pro features have continued to keep pace with the Android 10 update. The company has always tried its best to provide its customers with the latest features in the spy monitoring software. It has the perfect parental control monitoring features and much more to give you peace of mind with quick activity notifications from the target mobile.
Spymaster Pro Features To Spy On Android 10:
If you feel suspicious about your wife's recent activities. Or are you doubtful of your kid's fondness of his mobile? You can have several reasons to spy on Android mobile of your loved one with the latest updated version of the Spymaster Pro spy app.
Written below is a brief description of some of these updated features:-
You will get much smoother results with the live screen-shots from the target mobile.
Social media tracking is now much more improved and faster to keep an eye on Facebook, Instagram, Snapchat, and other such sites.
Listening to calls and call logs details also gets improved in the new update of Spymaster Pro for Android 10.
Browser history tracking is more refined and better than ever before.
Multimedia file tracking delivery becomes faster and quicker.
GPS tracking will give you real-time location information from the target mobile.
Parental tracking software is helpful for every parent wanting to get real-time activity notification from their kid's Android mobile.
Spymaster Pro features:
Android 10 is the latest update to Android, which until now had fruit names for every version. But this time, it decided to stick to a number, and if your loved one uses an Android 10 mobile, then Spymaster Pro features have kept pace with the new update. You can use the trusted spy app to keep a close eye on any target phone on Android 10.