Last updated on | 9701 Views
We all know that the internet is filled with chat rooms. That is why millions of people in the world are addicted to Smartphones. But do you know about the dangers abound within internet land? If yes, then you must have heard about online infidelity (cyber affair). Unfortunately, the combination of internet and smartphones has brought out a whole new level of dishonesty.
There was a time when people used to share their feelings through texts, pictures, and videos with their love partners to put some zing back in their days. It was common, especially between those who live in a long-distance relationship. However, nowadays, there is so much of hanky-panky going on, people are getting secretly engaged in casual affairs and communicating with the help of their good old cell phones.
Also Read: How to Spy on Someone Phone Calls Secretly?
Is your girlfriend or wife's strange behavior thwarting your mind and heart?
Well, if you suspect that your significant other is cheating, you are at the least feeling very angry right now. But without proof suspicions are all they are.  So, how can you tell whether your spouse is actually cheating on you? Of course, you cannot just ask them point-blank whether or not they are: doing so will likely make them feel very defensive, regardless of what the truth is. And, even if asked, your spouse may just deny it to their grave (if they are indeed cheating on you) unless you present some indisputable proof that something is actually going on. If you want to truly know, then the following is a definite trigger for digging deeper.
Is she looking for a newbie love? How Can I reveal the truth?
Firstly, you don't need to feel emotionally devastated. If you want to know where she goes, to whom she meets, to whom she talks, you can personally watch her every single moment by spying on her mobile phone without letting her know. Yes, you heard that right. Spy on her mobile phone is the best way to know the truth, and you can do it with the help of Spymaster Pro.
Haven't heard about Spymaster Pro yet?
Well, it is a No.1 spy application that can help you to monitor someone's mobile phone secretly. This application is most reliable, undetectable because it works in hidden mode so that the user under the surveillance will never come to know about someone keeping an eye on them. To spy on her mobile, all you have to do is:
Primarily, buy this phone tracker app online
After getting the possession of the software, download the link sent to the registered email id
Install the Spy application on the Android device that you want to spy on
Once the process is done, you can log in to your spy user account and start watching her entire mobile phone activities. You can remotely monitor her mobile device anytime, no matter where the target phone is.
How To Install Spymaster Pro?
Additional Functionality:
Spymaster Pro is application is 100 % safe to use and can help you to catch her red-handed with solid evidence. Through this application, you can easily view all her call logs, contact details, installed apps, and internet history. Apart from this, you can also read emails, text messages, Facebook chats, Whatsapp chats, Instagram chats, Snapchat messages, even Track GPS Location, and a lot more.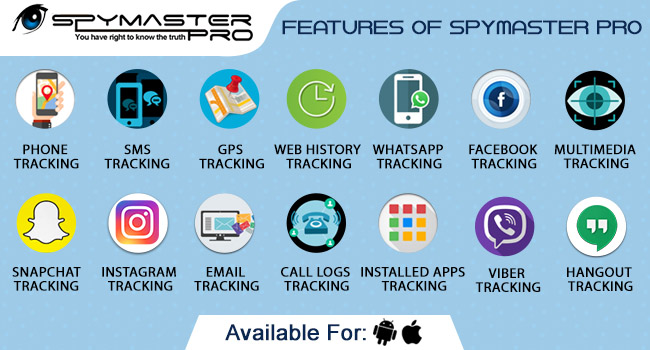 Almost everything is at your hand when Spymaster is installed on the cell phone of the person you want to track.
Note: For any query and issues, you can reach out to our customer support team. Our team is available 24*7 to help you out.
All those who suspect their spouse as dishonest and want to spy on her mobile phone without letting her know must try this No. 1 spy app online because this works in hidden mode, which means that she will never find out that you are spying on her.
So, just get Spymaster Pro today and free yourself from the pain of suspicions. This software is compatible with both iPhone and Android devices.