October 12, 2018 | 9706 Views
Millions upon Millions of people nowadays use an application called Instagram. This popular app is used all across the globe for sending messages. On Instagram, people can send crazy and private messages to one another from anywhere at any time.
Use of this application has become a lifestyle for many people, fun & entertainment for others. But unfortunately, it is creating devastating problems such as unruly child and Unfaithful Spouse. Statistics prove that in many cases this texting and sharing turn into late night conversations. And it does not stop here; it further creates another paradox of troubles like Cyberbullying, Sharing explicit content, Cyber-stalking, and infidelity as well.
So, it has become imperative to keep a close tabs on your kids and significant other. If you suspect your partner or child to be engaging in this application, don't destroy your relationship by snooping through their phone or by invading their privacy. The best decision is to know how to read their Instagram direct messages and other IM chat messages that can put your mind at ease, or provide you with enough evidence you need to confront your cheating partner.
Today we'll show you the easiest way you can.
Recover Deleted Instagram Messages – The Right Tool  
People believe that once messages get deleted, they cannot be recovered. But there is a hidden truth. And the truth is all about having the right tool for the job. Yes, there is nothing impossible in this digital world. There is a way that you can get messages and read them away from the phone. Just read on to find the right tool for both Android and iPhone.
Recover Instagram messages on Android
Recover Instagram messages on iPhone
Let's get started the process of each option, at a time…
How to Recover Deleted Instagram Direct Messages on Android
The safest possible way to recover deleted Instagram direct messages on Android is Spymaster Pro. It is smartly designed software that provides precise information of the cell phone clandestinely.  All it requires is a simple installation process on the Android device that you want to snoop on. The software works quietly without leaving any clue. It means that once the software gets installed in the target Android mobile, user under the surveillance won't know that he/she is under observation.
How does it Work?
Step 1: The first thing you need to consider is whether the mobile you want to spy on is Android or iPhone. Check the software compatibility,
Step 2: The next thing is to buy the eminent Cell Phone Monitoring Software.
Step 3: Download and install the Spymaster Pro in the target Android mobile.
Step 4: Login to your personal Spymaster Pro account and read every text messages that is sent or received.
Note: Once the Spymaster Pro records the mobile information, it will transfer it to an online account that you can access. When you log into this account you will be able to read the Instagram messages, even the ones that got deleted off the phone.
How to Recover Deleted Instagram Direct Messages on iPhone
In case you want to recover deleted Instagram direct messages on iPhone, no installation or jailbreak is required. Get the iCloud credential of the target iPhone and submit the details at the time of login. No matter where the target iPhone is, you will get the entire mobile activities from anywhere at any time without even touching the target iPhone.
Also Read: How to Read My Boyfriend's Deleted Instagram Messages
Wait this isn't!
Besides recovering Instagram deleted direct messages, there is a variety of other helpful data that user can retrieve from the target cell phone.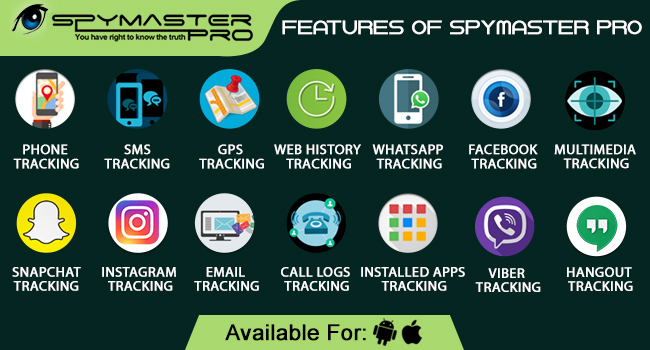 It doesn't matter whose mobile you want to snoop in. It could be a spouse or a child, but with Spymaster Pro software you can snoop all you want, and they will never know unless you tell them. All call logs, SMS, GPS location, Web browsing history, Emails, Installed application, IM Chat conversations such as Facebook, Instagram, Snapchat, Whatsapp, everything is easily accessible from anywhere at any time.
So, If you believe infidelity has invaded your life and come between you and your partner's relationship, it would be the perfect time to get the Spymaster Pro.